Development of Munich Airport in Riem
The development of Munich airport from 1900 to 2000. Technical development, setbacks and political decisions of the airport in a 100 year review.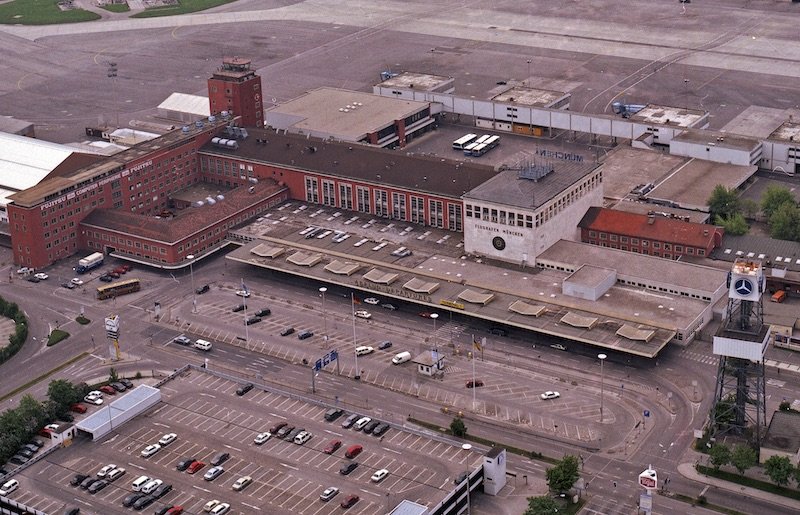 From the grass runway to the modern airport
Aviation has been an issue in Munich since 1920. The first aircraft took off and landed on grass runways in Oberwiesenfeld. However, it quickly became clear that this airfield would not meet the requirements of modern aviation in the long term. A modern airport was built in Riem, which was badly damaged by the war years and was hastily renovated after the end of the war. By the end of the 1960s, the modernized Munich Airport had grown to meet the requirements of Munich air traffic. The 1972 Summer Olympics and the increasing demand for package tours gave an indication that the airport in Riem was becoming too small. Initially, plans were developed to further expand the airport in Riem. However, the Öchsle Commission came to the conclusion that it was planning a new major airport outside of Munich. For Riem, this meant that the time until the completion of Munich's new major airport was compensated for in the coming years with hastily implemented "bridging measures", while at the same time the demand for flight capacities increased dramatically. So until the very end, the Riemer Airport had to be held together with patchwork, until it could finally be "redeemed" in 1992.
Although the new Munich Airport in Erdinger Moos has already been planned on a large scale, but had to be neutered due to public petitions (e.g. only 2 runways instead of 4), development has not stood still there for years. An airport never stands still - at least in Bavaria.
Milestones of Munich Riem Airport
May 3, 1931

June 1, 1936

January 11, 1937

October 25, 1939

March 1, 1948

November 22, 1949

June 16, 1951

October 25, 1965

June 13, 1968

4th August 1969

5th August 1969

11th August 1969

December 1, 1970

April 21, 1971

April 26, 1971

June 3, 1971

3rd November 1980

April 16, 1981

December 9, 1987

November 15, 1988
Munich's Oberwiesenfeld has provided a landing area for balloons and airships since the end of the 19th century. With the increased number of aircraft, the Oberwiesenfeld airfield was used as a military airfield from 1909, and from 1920 it also functioned for civil air traffic. However, the Oberwiesenfeld airfield was unable to meet the steadily growing demands of air traffic: [...]
Objects of the Munich-Riem airport